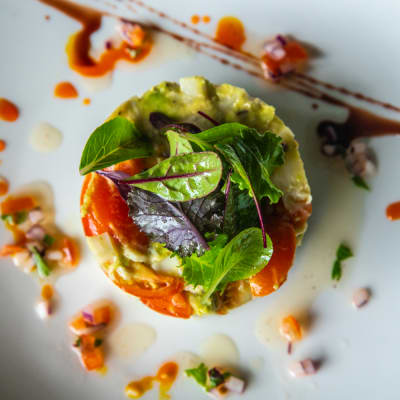 Food
Entering a world of magic in the candlelit atmosphere in Las Velas Restaurant, you can experience some of Costa Rica's finest dishes in an elegant, open-air location. From your table you can observe the colors of the sky change as the sun sets over the Pacific Ocean while you choose your gourmet meal. The florid scents of the jungle breeze will increase your appetite as you listen to the nesting scarlet macaws and the sounds of the nearby howler monkeys. When the day turns into night, the flicker of the candles and the fire of the Tiki torches illuminate the exotic trees turning it into a wonderful garden. You may forget that you are in a classic restaurant as you lose yourself to the fragrances, views, and sounds of the rainforest and seaside. Your presence will return as soon as you can whiff the aroma of your meal.
Check our menu here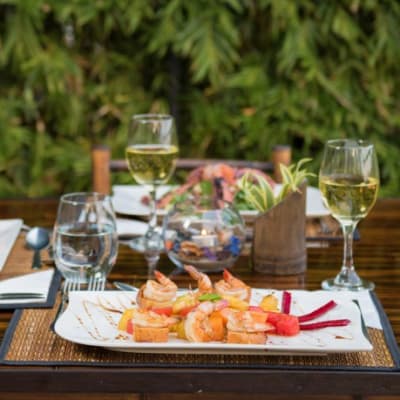 Drinks
Las Velas Restaurant reflects our passion for local, tasty, simple and freshly prepared meals. We use organic, seasonal, fresh and locally sourced produce. This includes free-range chicken, conscientiously caught seafood, grass-fed pasture beef and vegetables & fruits from the local famers´ market. We truly hope you enjoy our take on dishes from Costa Rica and Latin America as well as a few classic options from Europe and Asia. These dishes are inspired and prepared by our celebrated Costa Rican chef and complimented with a fine selection of premium beverages. As the songs of the toucans bring on the evening, the lounge at the Las Velas Club House is illuminated by candles, citronella tiki torches and natural lighting to create a special and romantic atmosphere where you can relax, plan your next day of adventures, catch up on news with our free Wi-Fi internet.
Check our menú here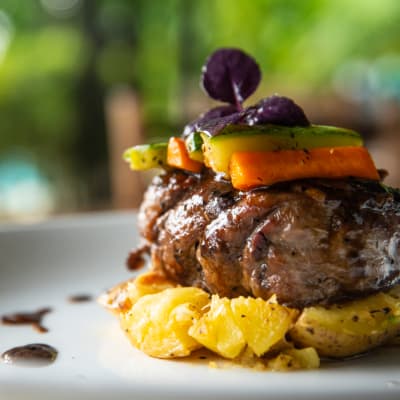 Enjoy our local, simple, tasty and freshly prepared meals!
For visitors, a delicious a la carte Breakfast is served from
7:00 AM to 11:00 AM for $8 pp + tax.
Las Velas Restaurant is open for dinner from
12:00 PM to 9:00 PM.
Children 16 years and above are welcome.
Reservations recommended
Email: info@TikiVillas.com or Tel +1 (506) 4200 5027